Semaglutide (aka Wegovy):
Weight loss injections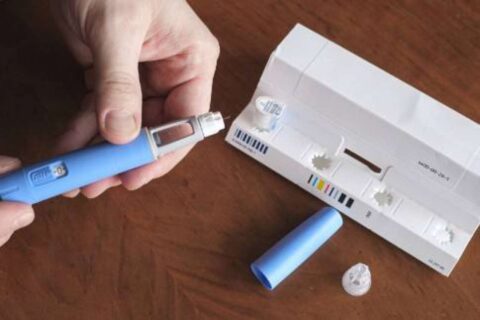 What is Semaglutide / Wegovy?
If you watch any tv at all, you've probably seen commercials for the incredibly popular diabetes drug Ozempic (you know the jingle, "oh oh oh, Ozempic"). In conjunction with treating diabetes, it's now being used as an incredibly effective weight loss drug called Semaglutide (or Wegovy). The search for safe and effective weight loss medications, drugs, and routines seems to be never ending. Semaglutide was approved by the FDA in 2021 and has quickly become one of the most popular weight loss drugs ever.
It's not a miracle drug, and is not for everyone. Our RN (with support of our medical team) will work with you to decide if it's right for you and your goals. You should be wary of anybody offering it without a consultation. Our semaglutide (the active ingredient in Wegovy) is compounded with L-carnatine to support fat metabolism. Weight loss expectations (for most, not all) should be 1-2lbs per week.
How does Semaglutide (marketed as Wegovy) work?
Now for some "boring" stuff: Semaglutide is a class of medication known as glucagon-like peptide-1 receptor agonists, or GLP-1 RAs. It mimics a hormone released in our gut in response to eating. One job of GLP-1 is to prompt the body into making insulin, which aids in reducing blood sugar (hence why it's marketed as a diabetes drug). After 15 years of using the drug to treat diabetes, researchers found that higher levels of GLP-1 interacts with the parts of the brain that suppress appetite, making you feel more full. When used in conjunction with proper diet and exercise, significant weight loss can occur in people who are overweight or even obese.
An early study of 2000 obese adults compared people using semaglutide in conjunction with lifestyle changes (diet and exercise) to those who just made lifestyle changes without the drug. After 68 weeks, half of the participants using semaglutide lose 15% of their body weight, and nearly a third lost 20% or more. Participants who only made the lifestyle changes lost about 2.4% of their weight.
Are there side effects with semaglutide injections?
As with most new drugs, yes there are side effects, but they are typically mild. Especially when compared to the complications that can come with obesity. Some of the side effects may include:
Dizziness
Fatigue
GI issues
Headache
Nausea
GI issues are the most common among people starting Semaglutide / Ozempic. Our trained staff will work closely with you on the dosage to resolve any issues as quickly as possible.
Who is a good candidate for semaglutide?
The FDA recommends Wegovy for weight loss if you meet the following criteria:
Have a body mass index (BMI) of 27kg/m2 or greater and at least one weight-related condition, such as high blood pressure, Type 2 diabetes or high cholesterol
BMI of 30kg/m2 or greater
Avoid semaglutide if you have:
History of thyroid cancer
History of pancreatitis
Galbladder disease
If you have any questions or would like to know if you are a good candidate for semaglutide injections, please give us a call at 303.469.0064 or send us an email.